by Tyler DurdenSat, 02/01/2020
The Ukrainian prosecutor who Joe Biden bragged about getting fired, Viktor Shokin, has filed a criminal complaint in Kiev against the former Vice President for abusing his power, according to French news outlet Les Crises (confirmed by multiple sources according to PJ Media).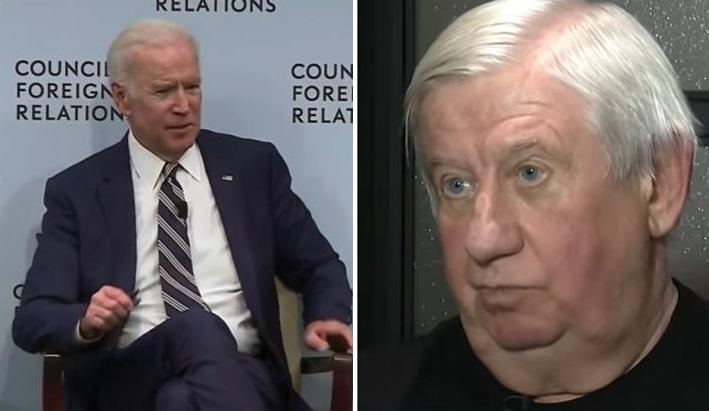 Shokin writes in his complaint:
Surge in online child abuse image crimes sees Met Police squad double in size
During the period 2014-2016, the Prosecutor General's Office of Ukraine was conducting a preliminary investigation into a series of serious crimes committed by the former Minister of Ecology of Ukraine Mykola Zlotchevsky and by the managers of the company "Burisma Holding Limited "(Cyprus), the board of directors of which included, among others, Hunter Biden, son of Joseph Biden, then vice-president of the United States of America.
The investigation into the above-mentioned crimes was carried out in strict accordance with Criminal Law and was under my personal control as the Prosecutor General of Ukraine.
Owing to my firm position on the above-mentioned cases regarding their prompt and objective investigation, which should have resulted in the arrest and the indictment of the guilty parties, Joseph Biden developed a firmly hostile attitude towards me which led him to express in private conversations with senior Ukrainian officials, as well as in his public speeches, a categorical request for my immediate dismissal from the post of Attorney General of Ukraine in exchange for the sum of US $ 1 billion in as a financial guarantee from the United States for the benefit of Ukraine.
Shokin says that due to "continued pressure from the Vice President of the United States Joseph Biden to oust me from the job by blackmailing the allocation of financial assistance, I, as the man who places the State interests above my personal interests, I agreed to abandon the post of Prosecutor General of Ukraine."
In November, the State department released detailed accusations against the Bidens levied by Shokin and his successor, Yiury Lutsenko. In them, Shokin claims:
"He [Shokin] became involved in a case against Mr. Mykola Zlochevsky the former Minister of Ecology and Natural Resources of Ukraine. The case was opened as a result of Mr. Zlochevsky giving himself/company permits to drill for gas and oil in Ukraine. Mr. Zlochevsky is also the owner of Burisma Holdings."
"Mr. Shokin stated that there are documents that list five (5) criminal cases in which Mr. Zlochevesky is listed, with the main case being for issuing illegal gas exploration permits. The following complaints are in the criminal case.
Mr. Zlochevsky was laundering money
Obtained assets by corrupt acts bribery
Mr. Zlochevsky removed approximately twenty three million US dollars out of Ukraine without permission
While seated as the Minister he approved two addition entities to receive permits for gas exploration
Mr. Zlochevsky was the owner of two secret companies that were part of Burisma Holdings and gave those companies permits which made it possible for him to profit while he was the sitting Minister.
"Mr Shokin further stated that there were several Burisma board appointments were made in 2014 as follows:
Hunter Biden son of Vice President Joseph Biden
Joseph Blade former CIA employee assigned to Anti-Terrorist Unit
Alesksander Kwasnieski former President of Poland
Devon Archer roomate to the Christopher Heinz the step-son of Mr. John Kerry United States Secretary of State
"Mr. Shokin stated that these appointments were made by Mr. Slochevsky in order to protect himself."
Shokin then details how in July 2015, "US Ambassador Geoffrey R. Pyatt told him that the investigation has to be handled with white gloves, which according to Mr. Shokin, that implied do nothing. On or about September 2015 Mr. Pyatt gave a speech in Odessa where he stated that the cases were not investigated correctly and that Mr. Shokin may be corrupt."
"Mr. Shokin further stated that on February of 2016 warrants were placed on the accounts of multiple people in Ukraine. There were requests for information on Hunter Biden to which nothing was received."
"It is believed that Hunter Biden receives a salary, commission plus one million dollars."
"President of Ukraine Petro Poroshenko [who Joe Biden threatened to withhold $1 billion in US loan guarantees] told Mr. Shokin not to investigate Burisma as it was not in the interest of Joe and/or Hunter Biden. Mr. Shokin was called into Mr. Poroshenko's office and told that the investigation into Burisma and the Managing Director where Hunter Biden is on the board, has caused Joe Biden to hold up one billion dollars in US aid to Ukraine.
"Mr. Shokin stated that on or around April of 2016 Mr. Petro Poroshenko called him and told him he had to be fired as the aid to the Ukraine was being withheld by Joe Biden. Mr. Biden told Mr. Poroshenko that he had evidence that Mr. Shokin was corrupt and needed to be fired. Mr. Shokin was dismissed in April of 2016 and the US aid was delivered within one and one half months."
"On a different point Mr. Shokin believes the current Ambassador Marie L. Yovanovitch denied his visa to travel to the US. Mr. Shokin stated that she is close to Mr. Biden. Mr. Shokin also stated that there were leaks by a person named Reshenko of the Ukrainian State Secret Service about the Manafort Black Book. Mr. Shokin stated that there is possible deceit in the Manafort Black Book."