Soros Goes All In Against Mark Zuckerberg With Trump-Facebook Conspiracy Theory
by Tyler DurdenSat, 02/01/2020
Billionaire George Soros is blaming Facebook and Mark Zuckerberg for helping President Trump win the 2016 election – completely ignoring that Trump's 2016 digital director (and 2020 campaign manager) Brad Parscale simply outmaneuvered Hillary Clinton's team when it came to social media.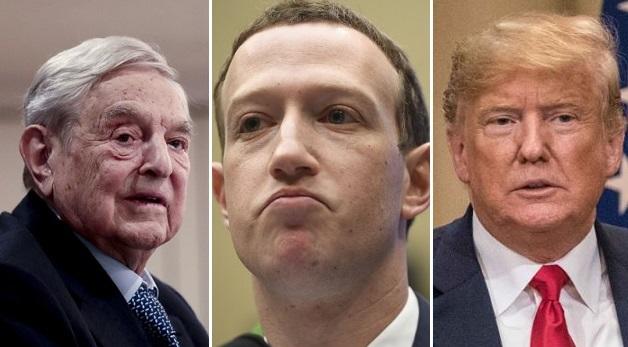 "Facebook helped Trump to get elected and I am afraid that it will do the same in 2020," Soros writes in a Friday New York Times Op-Ed, recounting a private conversation he says he had last week at Davos in which he argued "here is a longstanding law — Section 230 of the Communications Decency Act — that protects social media platforms from legal liability for defamation and similar claims. Facebook can post deliberately misleading or false statements by candidates for public office and others, and take no responsibility for them."
Soros then claims that there appears to be "an informal mutual assistance operation or agreement developing between Trump and Facebook" in which "Facebook will help President Trump to get re-elected and Mr. Trump will, in turn, defend Facebook against attacks from regulators and the media."
The 89-year-old Hungarian-born billionaire then argues that Parscale's statement that Facebook 'helped Mr. Trump' constitutes "the beginning of a special relationship."
Parscale, of course, was talking about the Trump campaign's use of Facebook – not the misleading conspiracy theory Soros is peddling. A quote from Soros's linked 'evidence' reveals just that:
Parscale said the Trump campaign used Facebook to reach clusters of rural voters, such as "15 people in the Florida Panhandle that I would never buy a TV commercial for".

"I started making ads that showed the bridge crumbling," he said. "I can find the 1,500 people in one town that care about infrastructure. Now, that might be a voter that normally votes Democrat." –The Guardian
Soros then points to Zuckerberg's September, 2019 Oval Office meeting with Trump, and subsequent comments made by the president, as more evidence of collusion.
He then writes:
Receive a daily recap featuring a curated list of must-read stories.
Facebook's decision not to require fact-checking for political candidates' advertising in 2020 has flung open the door for false, manipulated, extreme and incendiary statements. Such content is rewarded with prime placement and promotion if it meets Facebook-designed algorithmic standards for popularity and engagement.

What's more, Facebook's design tends to obscure the sources of inflammatory and false content, and fails to adequately punish those who spread false information. Nor does the company effectively warn those who are exposed to lies. -George Soros
Separate of his private conversation, Soros said last week at Davos that "Facebook will work to re-elect Trump and Trump will protect Facebook," adding "It makes me very concerned about the outcome of 2020."
Two days later, Hillary Clinton told The Atlantic (from the Sundance Film Festival) that Mark Zuckerberg is an "authoritarian" who "intend[s] to reelect Trump."
In response to Facebook's decision to remove a slowed-down video of Nancy Pelosi meant to make her appear drunk, Hillary says: "I said, 'Why are you guys keeping this up? This is blatantly false. Your competitors have taken it down. And their response was, 'We think our users can make up their own minds,'" Clinton told the magazine, adding that Facebook is "not just going to reelect Trump, but intend[s] to reelect Trump."