by Tyler DurdenThu, 02/20/2020
Summary:
Iran confirms 5 cases of COVID-19
Daegu, Cheongdo declared 'special management zones'
South Korean soldier tests positive
Hubei reports 411 new cases, 115 deaths
China reports an additional 3 deaths outside Wuhan and 889 other cases
US CDC slaps Japan with L1 travel advisory
Seoul mayor orders "cult" church associated with SK outbreak closed
Japanese officials defend their handling of 'Diamond Princess' quarantine
Beijing tightens lockdown after dozens more cases reported
As outbreak ex-China accelerates, WHO warns case #s "won't stay low for long."
Hong Kongers evacuated from 'Diamond Princess' after Japanese government confirms 2 deaths
Researchers confirm COVID-19 more contagious than SARS and MERS
Tim Cook welcomes back employees, customers as Apple reopens some China stores
Update (2020ET): It's 8:20 am in Beijing, and officials at the NHC have just released coronavirus figures for Thursday.
Across the country, officials recorded an additional 889 cases, and another 3 deaths. bringing the global total for cases north of 77,000.
CHINA REPORTS 889 ADDITIONAL CORONAVIRUS CASES FEB. 20
CHINA REPORTS 118 NEW CORONAVIRUS DEATHS FEB. 20
CHINA SAYS CORONAVIRUS DEATH TOLL RISES TO 2,236
CNBC's Eunice Yoon reporting live from Beijing showed that the capital city's streets were practically deserted.
Mini-outbreaks of #coronavirus in Beijing heighten fears. Clusters detected at two hospitals in part of #China capital home to gov't offices like Finance Ministry, central bank & financial institutions. "Infection density" in district "just lower" than Wuhan, state media reports.5004:30 PM – Feb 20, 2020Twitter Ads info and privacy351 people are talking about this
Meanwhile, in Seoul, the mayor has ordered the closure of a local branch of Shincheonji Church, the Christian "cult" to which the 'super-spreader' responsible for infecting dozens in Daegu allegedly belonged.
SEOUL MAYOR: TO CLOSE SEOUL UNIT OF SHINCHEONJI CHURCH: YONHAP
In the US, the CDC has issued a 'Phase 1' travel advisory for Japan, a couple days after issuing a similar warning for Hong Kong.
Travel – State Dept✔@TravelGov
U.S. citizens should reconsider travel by cruise ship to/in East Asia and the Asia-Pacific Region. To prevent the spread of the novel #coronavirus that causes COVID-19, many countries are implementing strict screening procedures. For more information see: http://ow.ly/pt3450yrVPw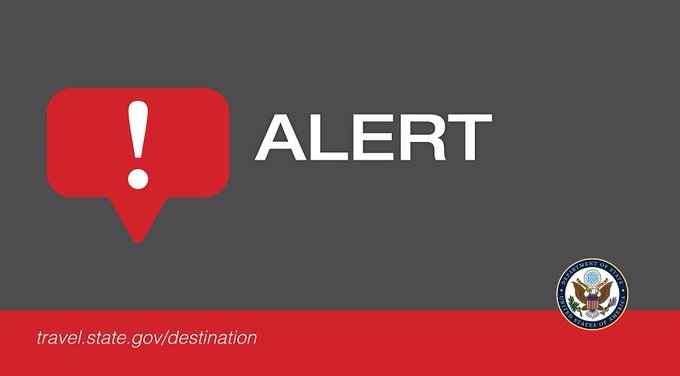 To sum up, cases in China outside Wuhan are finally starting to spike; cases in South Korea have more than tripled in three days, and Japan just got slapped with its first travel advisory by the US.
Still 'Just the flu'? (For the record, epidemiologists have concluded in the first batch of peer reviewed research that the virus is more contagious than both SARS and MERS).
Update (1900ET): As COVID-19 hysteria descends on South Korea, the Blue House has reportedly designated Cheongdo and Daegu "special management zones".
Daegu is the center of the outbreak, which is centered around a cultish church with roughly 1,000 members, most of whom are being tested for the virus after potentially coming in contact with a 'super-spreader' – a Korean woman who attended several church services after evading earlier controls.
As for the meaning of 'special management zones', well, Yonhap doesn't have anything on that yet. But we suspect it'll be something close to 'martial law' as mass quarantines officially become the strategy of choice for dealing with COVID-19 outbreaks.
The chart isn't exactly reassuring…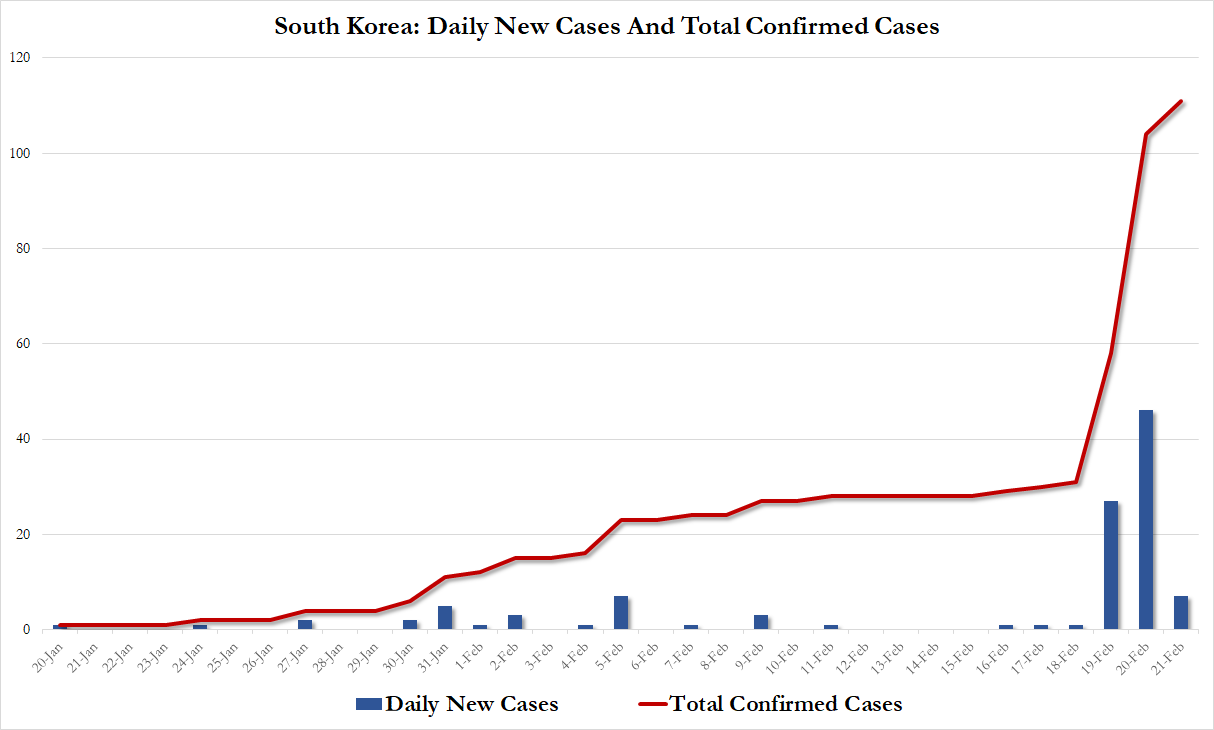 Update (1820ET): Speak of the devil…
Just minutes after we posted our last update, where we pointed out that officials in Hubei were late with their nightly numbers, they finally arrived.
Hubei reported another 411 new 'confirmed' cases, along with 115 new deaths, slightly higher than the average from the last few days. Another1,451 patients were discharged, allowing Beijing to stick with its narrative that more patients are recovering than catching the virus, a sign that the outbreak is abating.
HUBEI REPORTS 411 NEW CORONAVIRUS CASES, 115 DEATHS FEB. 20
CHINA'S HUBEI TOTAL CORONAVIRUS CONFIRMED CASES RISE TO 62,442
CHINA'S HUBEI SAYS 1,451 PATIENTS DISCHARGED FEB. 20
Not like it matters. After China changed its criteria for which cases are counted in the official total for the second time in a week yesterday, the world has shifted its focus to the outbreak outside China, specifically South Korea and Japan.
The new numbers bring the global total of confirmed cases north of 76,000, with 2,147 deaths.
Update (1815ET): Yonhap is reporting that the first case of coronavirus among a member of the South Korean military has been detected.
That's bad news, mostly because soldiers tend to live in crowded barracks, typically in close proximity to other soldiers.
Which is exactly what Yonhap reported. They also reported that the soldier likely picked up the virus during a visit to his hometown of Daegu, the city at the center of South Korea's outbreak.
A Navy sailor on the southern island of Jeju was confirmed Friday to have contracted the new coronavirus in the first confirmed case among service personnel in South Korea, officials said.

The sailor, 22, tested positive for COVID-19 in the initial examination the previous day and was finally confirmed earlier in the day, according to the officials.

He visited his hometown, Daegu, 300 kilometers southeast of Seoul, from Feb. 13 to Tuesday. Upon returning to the base, he showed symptoms, such as coughing, prompting the authorities to immediately quarantine him at the base. He is now at a Jeju hospital.

It is yet to be known exactly how he contracted the virus. But South Korea has seen a surge in patients in Daegu and the surrounding North Gyeongsang Province in recent days, as the country's 31st patient attended a church service, along with around 1,000 others. As of late Thursday, the total number of confirmed cases stood at 104, according to health authorities.

In the wake of high chances of the first coronavirus case among service personnel, the defense ministry decided late Thursday to restrict all enlisted soldiers from vacationing and staying outside their base to meet visitors starting Saturday.
Over in Beijing and Wuhan, the world is eagerly awaiting the latest round of numbers. The usually arrive around 5:30 ET – meaning that they're already officially late.
With all the attention paid to yesterday's decision to once again change their criteria for counting virus cases, officials must be taking their time making up the numbers tonight.
Update (1420ET): WSJ reports that Japan's top health officials have defended their handling of the 'Diamond Princess' quarantine during a statement to Japan's parliament, the Diet.
Japan's Health Minister Katsunobu Kato told Parliament the two people from the Diamond Princess cruise ship who died had "received the best medical treatment" but couldn't be saved after catching the novel coronavirus on board. As of Thursday, 634 passengers and crew members were diagnosed with the virus out of 3,063 tested. Slightly more than half have no symptoms at all, officials said, and many of the remainder have only mild fever or a cough. Among patients who tested positive for the virus, 28 were reported in serious condition Thursday.

Doctors have said the virus can be particularly harmful in elderly patients, and one of the two fatal cases from the Diamond Princess, a Japanese man in his 80s, had pre-existing bronchial asthma and had been treated for angina. The other, a Japanese woman in her 80s without underlying illnesses, came down with a fever on Feb. 5, the same day passengers were told they would be quarantined in their cabins for two weeks, according to health ministry officials. The next day, she started suffering from diarrhea and saw a doctor on board.

She wasn't taken to a hospital until Feb. 12 when she started suffering shortness of breath. Her virus test came back positive the following day, and despite treatment with antiviral drugs normally used to treat HIV infection, she died Thursday.

Asked about the woman's case, health ministry official Hiroshi Umeda said, "I believe it was handled promptly." He said the ship was a difficult environment for medical staff but they worked day and night and tried to prioritize the most serious cases.
The country has been widely criticized for appearing to break quarantine on the cruise ship, which was home to the largest COVID-19 outbreak outside China. More than 700 passengers who tested negative for the virus disembarked the ship on Wednesday and Thursday.
Update (1415ET): A group of 59 Hong Kong police officers has been quarantined after a fellow officer tested positive for the virus, according to a statement released publicly by the city's police.
Update (1250ET): Less than an hour ago, we mentioned that Beijing's heavy-handed virus-fighting measures had become the subject of an intense "public debate" about whether they were doing more harm than good.
Well, according to an unconfirmed report from the Epoch Times' Jennifer Zeng, party officials in Beijing are upgrading its "epidemic prevention" status to "Wuhan-level" – meaning a complete lockdown where residents aren't allowed to leave their homes without specific permission.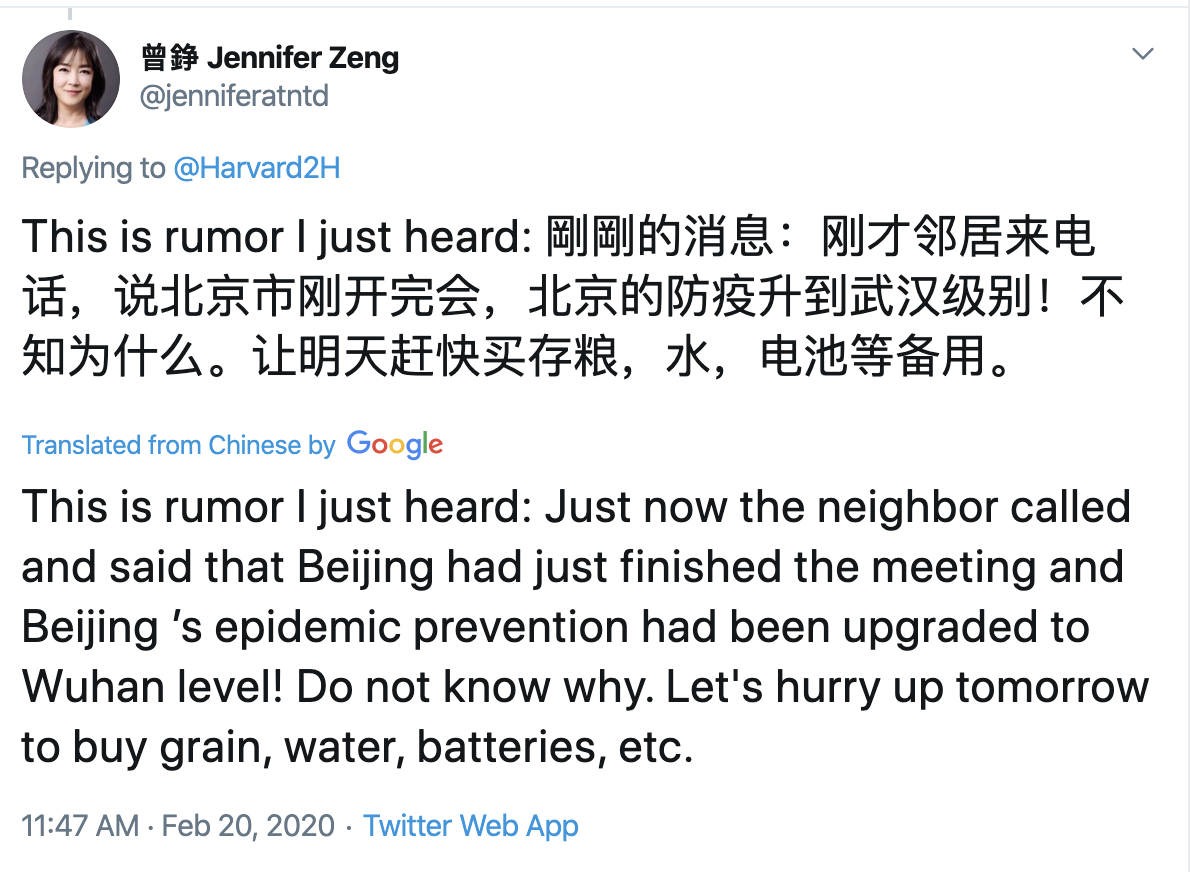 Another tweet sent earlier in the day reported new restrictions being imposed at a Beijing apartment complex.
Michael Schuman✔@MichaelSchuman
Think the Wuhan virus outbreak is slowing? Doesn't feel that way on the ground. My Beijing apt complex just instituted new rules barring nonresidents. We need special passes to get in & out. Only 3 passes/apt. Sorry family of 4. You're out of luck.7753:44 AM – Feb 20, 2020Twitter Ads info and privacy448 people are talking about this
How much longer can the party keep this up before it damages public confidence to a degree that can't be repaired.
Update (1200ET): In what appears to be yet another consequence of Beijing's rushed push to get all of China "back to work" nearly two weeks ago, the Global Times, a Chinese tabloid that also publishes in English.
A hospital in Central Beijing has reported 36 novel coronavirus cases as of Thursday, a sharp increase in the number of cases reported in the capital city. The new cases bring Beijing's total to 45, stoking fears that the outbreak could accelerate.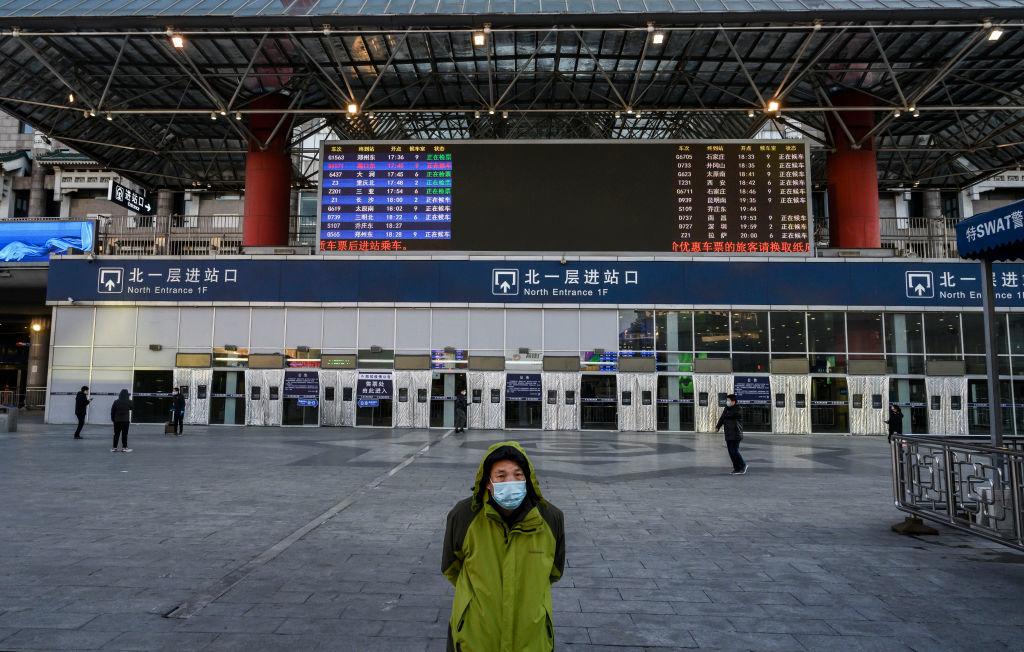 Among the infected at Fuxing Hospital in Beijing's Xicheng district were eight medical workers, nine cleaning staff and 19 patients, along with members of their families.
These confirmations follow reports that Beijing officials quarantined whole office buildings following after some employees were suspected of having the virus.
"Considering 36 confirmed cases were found in Fuxing Hospital, it is more about one case of multiple infections rather than an epidemic of the whole area," Wang Guangfa, director of the department of respiratory and critical care medicine at Peking University First Hospital, told the Global Times on Thursday.

"This coronavirus issue is big. It will effect a lot of companies, and I think the market's have underestimated what a big supply-side shock this is," said Mohammad El-Erian, Bill Gross's former No. 2 man at PIMCO and a widely watched economist who works now with PIMCO parent Allianz.
Peking University People's Hospital, another major hospital in Beijing, confirmed that it had received three patients carrying the virus earlier this week on Feb. 17. Already, a total of 164 medical workers at the hospital have been placed under close medical observation after they had "close contact" with the patients – something that seems almost unavoidable for nurses and doctors.
A total of 164 people including medical staff at People's Hospital who have had close contact with the patients have been put under close The hospital said it had conducted coronavirus tests on 251 personnel, and so far, they've all been negative.
In other news, another analyst has told the GT that Apple's iPhone sales in China will shrink 40% to 50% in the near term after the company closed all its retail stores in the country earlier this month. Those stores have only just started to reopen.
Liang Zhenpeng, a senior industry expert, told the Global Times on Thursday the COVID-19 outbreak has dealt a heavy blow to the sales of all mobile phone suppliers in China, including Apple.
"The iPhone's sales in the first quarter of this year are likely to be less than half of the same quarter in 2019," he said. "Mobile phone sales, both online or offline, are very difficult during this period, because the supply chains can hardly be normalized."
Apple CEO Tim Cook said on his Sina Weibo account, China's Twitter-like social media, that the company is welcoming back employees and customers and is looking to work closely with their manufacturing partners to get everything back on track.
We suspect this is what triggered the market plunge over the last 30 minutes.
Circling back to Beijing, the municipal officials said that all hospitals in Beijing should "accelerate hospitalization of patients and try their best to diagnose suspected cases to treat the infected patients at the earliest time."
So far, the confirmed cases in the city have been scattered around 15 of its 16 districts.
The hysteria surrounding the outbreak across China has actually sparked an interesting public debate – something you don't see much in China – about whether all of the heavy-handed government measures – the quarantines and lockdowns and roadblocks – and the work stoppages are really necessary.
Some even contend that by impoverishing regular Chinese people via work stoppages that damage the economy, the government might be doing more harm to the population than the virus has, according to the New York Times.
With hundreds of millions of people in China now essentially living in isolation and its economy nearly at a standstill, experts in the country are increasingly arguing that Beijing's efforts to fight the coronavirus are hurting people's lives and livelihoods while doing little to the stop the virus's spread.

If the country becomes poorer because of emergency health measures, they say, that drop might hurt public health more than the virus itself.

The debate – including questions about whether mandatory 14-day quarantines, roadblocks and checkpoints are really necessary in areas where there have been few cases – is unusual in a country where dissent is usually censored.

It comes as China reported a significant decrease in new coronavirus infections on Thursday, as health officials changed the way they counted confirmed cases for the second time in over a week.
Of course, President Xi and China's senior economic officials claim that there won't be any economic pullback, since Beijing is obviously winning the 'People's War'.
* * *
Update (1010ET): Talk about a spike in deaths: Iran is now reporting 9 deaths after shocking the world by revealing that two Chinese nationals infected with the virus had died in the city of Qoms earlier this week.
The Iranian regime has reportedly imposed a China-style crackdown on Qoms, deploying military and crowd-control police across the city.
It's just the latest sign that the cases and deaths ex-China are accelerating.
CNBC's Eunice Yoon reports that Beijing has warned Hubei not to allow people back to work before March 10.
#HubeiProvince has told its businesses they are not to resume work before end of March 10. Schools not to re-open until further notice. #coronavirus #China2527:06 AM – Feb 20, 2020Twitter Ads info and privacy214 people are talking about this
#Coronavirus has affected consumption in Jan, Feb, says Commerce Ministry official. Expects consumption to stay in recovery mode in Q2, and further improve in H2. Hardest hit industries? F&B, lodging, tourism, culture, entertainment. Flagged by @CNBC @chengevelyn. #China406:59 AM – Feb 20, 2020Twitter Ads info and privacy26 people are talking about this
Local leaders said yesterday that they would launch a special financing vehicle to help struggling companies in the province survive the outbreak.
Following the WHO's daily press conference, Director General Dr. Tedros said the WHO had confirmed 1,000 cases outside mainland China (with more than half of them infected aboard the 'Diamond Princess'), and 7 deaths, likely excludes some of the deaths announced over the past 12 hours. Though he added that the data coming out of China "appeared to show a decline in new cases."
"Outside China, we have seen a steady drip of new cases, but we have not yet seen sustained local transmission, except in specific circumstances like the Diamond Princess cruise ship," he added.
More ominously, Dr. Tedros exclaimed that the outbreak is far from over, and if governments don't take adequate steps to fight the virus, the number of cases outside China "won't stay low for very long."
Worried about more shortages of personal protective equipment like facemasks, Dr. Tedros pleaded with a dozen different manufacturers to do whatever they can to keep up appropriate global supplies.
World Health Organization (WHO)✔@WHOReplying to @WHO and 10 others
"I've written to 12 chief executives of manufacturers of personal protective equipment to seek their cooperation to ensure supply to protect #healthworkers"-@DrTedros #COVID19 #coronavirus437:20 AM – Feb 20, 2020Twitter Ads info and privacy27 people are talking about this
The director said the WHO expects to have more data from two clinical trials for treatments in roughly 3 weeks.
Since we haven't posted a breakdown of new cases yet today, we figured we'd share this list of countries, cases and deaths courtesy of the Associated Press:
According to the Associated Press, the latest figures provided by each government's health authority as of Thursday in Beijing are:
Mainland China: 2,118 deaths among 74,576 cases, mostly in the central province of Hubei
Hong Kong: 65 cases, 2 deaths
Macao: 10
Japan: 727 cases, including 634 from a cruise ship docked in Yokohama, 3 deaths
Singapore: 84
South Korea: 51, 1 death
Thailand: 35
Taiwan: 24 cases, 1 death
Malaysia: 22
Vietnam: 16
Germany: 16
United States: 15 cases; separately, 1 U.S. citizen died in China
Australia: 14
France: 12 cases, 1 death
United Kingdom: 9
United Arab Emirates: 9
Canada: 8
Iran: 5 cases, 2 deaths
Philippines: 3 cases, 1 death
India: 3
Italy: 3
Russia: 2
Spain: 2
Belgium: 1
Nepal: 1
Sri Lanka: 1
Sweden: 1
Cambodia: 1
Finland: 1
Egypt: 1
In other news, UK passengers aboard the 'Diamond Princess' will be evacuated by their government on Friday. The chartered evacuation flights (following the standard template) will land at Boscombe Down airbase in Wiltshire. Elsewhere in the anglosphere, Australia has extended its travel ban for arrivals from China into a fourth week. It will last until Feb. 29, the Guardianreported.
Hours after Japanese press reports claimed that two passengers who contracted COVID-19 aboard the 'Diamond Princess' diedyesterday – news that was later confirmed by Japanese authorities – South Korea reported its first fatality while one of its major cities asked citizens to stay inside and avoid venturing outdoors, according to the Washington Post.
According to Japanese government officials, both of the virus-related fatalities were Japanese citizens in their 80s who had been moved off the ship more than a week ago for treatment in a Japanese hospital, though the government has so far declined to release names.
The latest reports Thursday morning confirmed another 13 cases aboard the DP bringing the total to 634. The odds that individuals being released from the 2 week quarantine on Thursday and Friday might have contracted the virus, but have yet to show symptoms, remains high. The death in South Korea raised the death toll ex-China to 10.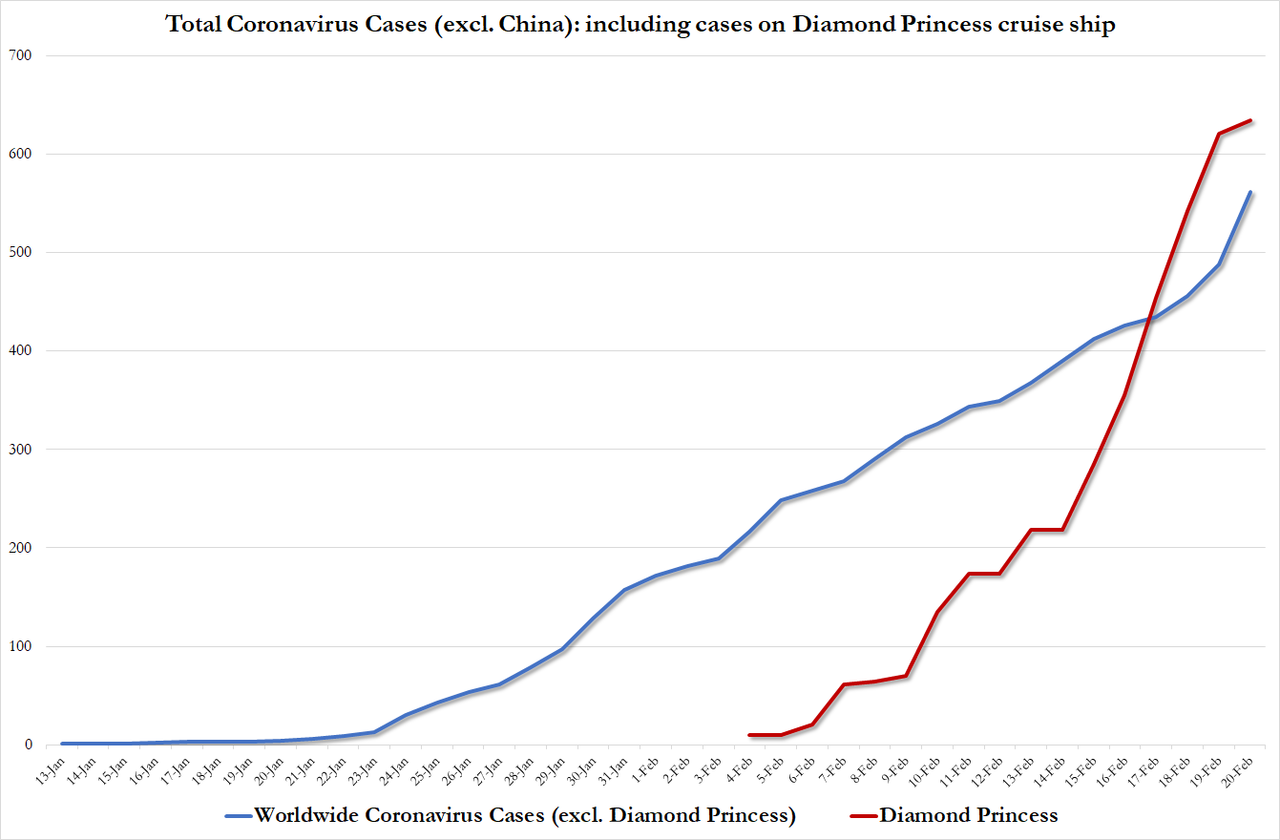 The speed is hardly a surprise for those who have been paying attention to all of the new research, instead of dismissing it for being 'alarmist' and 'not peer reviewed'.
Finally, earlier this week, researchers published the largest study yet of the outbreak, which confirmed that COVID-19 is more contagious than SARS and MERS, leaving it on par with seasonal influenza.
Still, experts insist that the virus's fatality rate is probably around 2%, meaning that it's less deadly than SARS, but the wider spread will result in more deaths, CNN reports.
"My sense and the sense of many of my colleagues, is that the ultimate case fatality rate … is less than 2%," Dr. Anthony Fauci, director of the National Institute for Allergy and Infectious Diseases, told CNN's Jim Sciutto on "New Day" Tuesday. "What is likely not getting counted is a large number of people who are either asymptomatic or minimally symptomatic, so the denominator of your equation is likely much much larger."

"So I would think at tops it's 2% and it likely will go down when all the counting gets done to 1% or less. That's still considerable if you look at the possibility that you're dealing with a global pandemic," he added.
Even as President Xi does everything in his power to present an image of success to the Chinese people – in his speeches, he claims the Chinese government's strict quarantines have been an unmitigated success – global experts, including the WHO, have warned that the disease will continue to spread globally, and that the end of this crisis is still far from certain.
And as new confirmed cases dropped substantially on Wednesday in Hubei, everywhere else, the rate of new infections is accelerating.
In South Korea, the number of cases soared by almost two-thirds to 104 overnight, further emphasizing our observation that the number of cases ex-China has started to accelerate notably as the curve starts to resemble an exponential progression.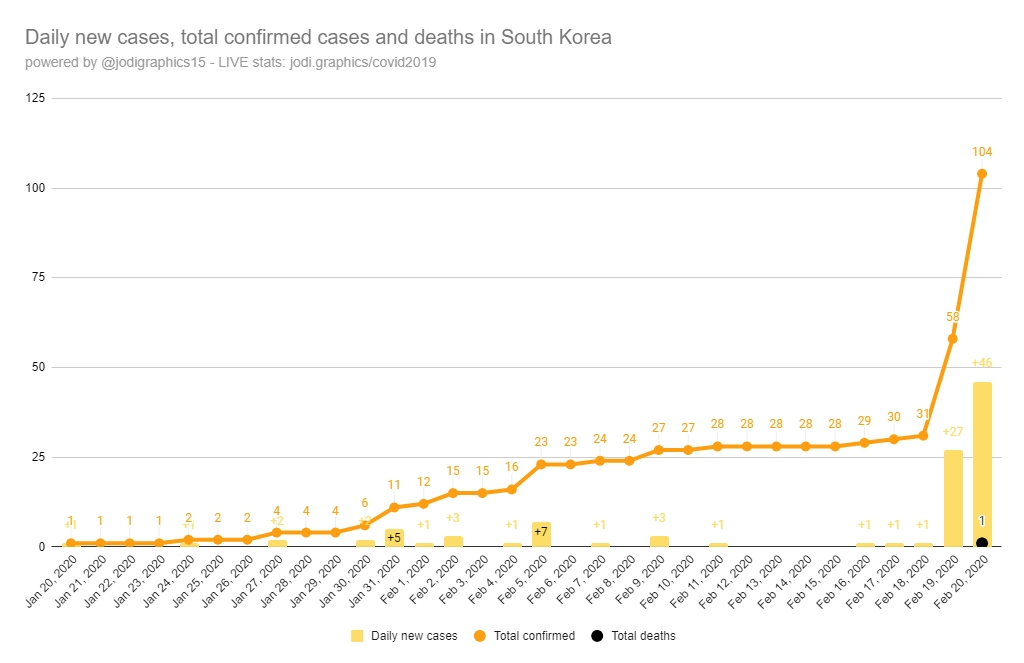 One WHO health expert told a Japanese TV station on Thursday that the virus is "a moving target" making it difficult to collect information and treat people: "Nobody has ever had to deal with this situation before, this is a new virus on a ship with 4,000 people, there are no guidelines for that." He added that he suspects there was a substantial amount of transmission before it arrived in Yokohama, adding that it was "not possible" to isolate everybody individually.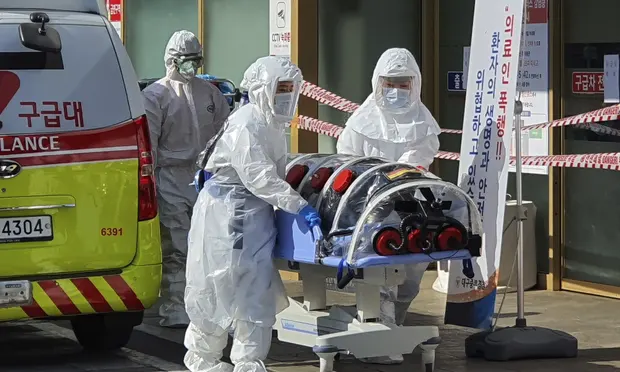 The WHO senior epidemiologist was responding to claims made by another expert in infectious disease that the Japanese had failed to observer proper quarantine protocols.
Back in Korea, the mayor of Daegu, a city of 2.5 million where 10 South Koreans contracted the disease from a church service, asked residents to stay indoors. Iran also reported two infected that then died.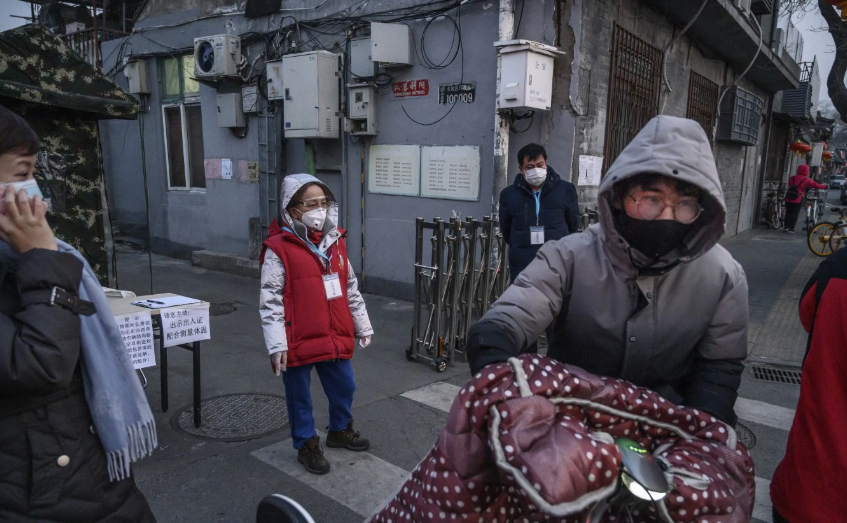 Experts suspect that one woman in Daegu may have infected at least 40 others by going to her Christian church, according to Yonhap. The alleged 'superspreader' is the reason for the huge jump in new cases on Thursday. Experts say the city is now facing an "unprecedented crisis" following the spike in cases.
"We are in an unprecedented crisis," Daegu's mayor, Kwon Young-jin, told the press.
Cases are also surging in Singapore, where Deutsche Bank confirmed that an employee in its Singapore office had contracted the virus.
Adding to its woes, Iran reported three new cases on Thursday a day after it confirmed two virus-related deaths in the city of Qoms.
Warnings about the virus's economic blowback are increasing, as Goldman said Thursday that stocks aren't completely pricing in the risks from the virus.
Meanwhile, Air France-KLM, Qantas, and the global container shipping giant Maersk became the latest companies to warn about the financial impact from the continued spread of the coronavirus.
As President Xi balances the risks to tens of thousands of lives on one hand, and keeping his promise to double the size of China's economy by 2020 on the other, it seems the leadership in Beijing are beginning to believe their own propaganda. Premier Li Keqiang, Xi's No. 2 who is in charge of the committee managing the crisis, local governments should seek to increase the rate of resumed production and work, according to China Central Television.
Put another way: Come on in, the water's fine, and if you get the virus and die, we'll cremate your body and tell your family you died of "pneumonia."
China's smartphone shipment declined 50%-60% during the 2020 Spring Festival holidays due to the coronavirus outbreak. About 60 million smartphones remain unsold.
Chinese officials are pulling out all the fiscal and monetary stops to protect China's damaged economy, and on Thursday local officials from Hubei announced a new lending scheme – a "special financing vehicle" – worth 50 billion yuan (more than $7 billion) to stabilize financing for local companies.
To be sure, the drop in new cases last night was largely caused by health officials reversing their decision to include "clinically diagnosed" patients – i.e. those who haven't yet tested positive due to a shortage of effective tests – in the case totals.
The spate of deaths rattled investors overnight, and US equity futures are pointing to a lower open on Thursday, and a rush of risk-off trading in Asia has pushed the BBG dollar index to a 4-month high following the latest piece of evidence that the coronavirus isn't simply "another flu".